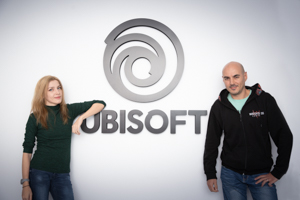 Andreea Mindroiu | Senior Gameplay Programmer @Ubisoft 
As a Senior Gameplay Programmer, Andreea is highly focused on building robust and scalable gameplay systems, while also helping newcomers find their way in the world of game development. She likes to get involved in internal and external mentoring programs, being committed to imptoving herself, as well as others. Andreea is also an avid gamer, a running enthuziast and a passionate hiker. 
Liviu Totolici | Level Design Director @Ubisoft 
With more than 13 years of experience in gaming, Liviu is currently a Level Design Director at Ubisoft. Working on well-known AAA Ubisoft titles from the Assassin's Creed worlds to the Watch Dogs universe, he is passionate about mixing creativity, vision and gameplay. Liviu is leading a creative team in a fast changing environment and is focused on getting just the right amount of rhythm, tension, and difficulty in games, so that players have a truly enrichin experience.