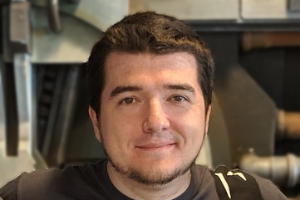 Andrei Danescu  | 3D Environment/Technical Artist at AMC Studio

Andrei is a 3D Environment/Technical Artist at AMC Studio since 2014. He graduated Politehnica University of Bucharest with a Masters Degree in Computer Graphics and used that knowledge to augment his passion for 3D modeling. When he isn't creating assets for AAA titles such as Mafia III, Call of Duty or World Of Tanks, he is shaping tools to improve the workflow for himself and everybody else. Some of his favorite toys are 3DS Max, Substance Painter/Designer, Marmoset Toolbag and Unity but he also plays with Maya, Marvelous Designer, ZBrush and more. He speaks C#, Python, GLSL/HLSL, MEL, MaxScript and some JS.
Andrei is an avid gamer, enthusiastic about tech and software, uses every opportunity to learn something new, and lives by the motto "If it ain't broke, it can be improved".