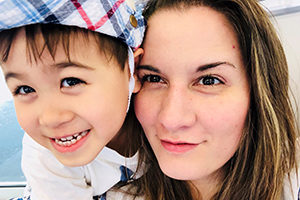 Elena Dragu  | 2D/3D Artist at Cocone

After working 3 years for Ubisoft Romania, while everyone took their career direction to western game industries, influenced by Ghibli Studio's animations, Elena went to the opposite side of the world, to Japan, where she has been working for the past 6 years.
She is currently working as a 2D 3D artist for Cocone Japan, a young Japanese company with studios in Tokyo, Sendai, Kyoto, and Seoul (Korea) and hold popular titles such as Pokecolo ( ポケコロ) and Van Meowogh.   When she doesn't work, she spends time playing with her kid talking about robots, Japanese Shinkansen trains and Minecraft. She hopes one day to create a graphic novel with her son.