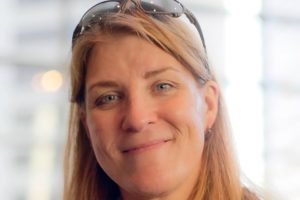 Kate Edwards  | Executive Director, Global Game Jam & CEO, Geogrify

Kate Edwards is the Executive Director of the Global Game Jam, as well as the CEO and principal consultant of Geogrify, a consultancy which pioneered content culturalization. She is also a Board Member of Take This and is the former Executive Director of the International Game Developers Association (IGDA) from 2012 to 2017. In addition to being an award-winning advocate who serves in several advisory roles, she is a geographer, writer, and corporate strategist. Following 13 years at Microsoft, she has consulted on many game and non-game projects for BioWare, Google, Amazon, Facebook, LEGO, and many other companies.
Fortune magazine named her as one of the "10 most powerful women" in the game industry in 2013 and in 2014 was named by GamesIndustry.biz as one of their six People of the Year. Besides being awarded by several events for her advocacy work in the global game industry, she was most recently honored with the Ambassador Award at the Game Developers Choice Awards at GDC 2020. She is also profiled in the December 2018 publication Women in Gaming: 100 Professionals of Play.