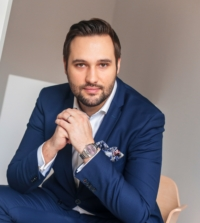 Mateusz Wcześniak | CEO & Co-Founder at Movie Games
Having completed studies in the fields of Management at the Warsaw School of Economics and Sociology at SGGW, as well as professional experience in the sales, finance and marketing sectors, effectively combines knowledge in the field of social sciences and economics.
Experienced seller and manager of sales teams, specializing also in trainings dedicated to the financial sector. Over the years, he developed enterprises, among others in the development industry, luxury products and financial services in Poland and on an international scale.
Since 2008, he has been associated with the Stable Development Fund, where he is responsible for the creation and organization of subsidiaries' activities on the Polish, French, Dutch and Luxembourg markets. Since 2015 he has been the Vice-President of the Stable Development Fund and is its shareholder. Together with Aleksy Uchański, he created Movie Games S.A.